News & Events
Hotel Congress, Visit Tucson and The Mexican Consulate presents the 9th annual Agave Heritage Festival, Tucson's first officially UNESCO endorsed City of Gastronomy event. Nationally acclaimed as a "Top 10 Festival In The World" by Bravo TV, this year's event explores and celebrates the culinary, cultural and commercial significance of agave on the border region.
Agave Heritage Week / Mission Garden Program
Friday April 28, 2017
4pm to sundown
Presentation: Jesus Garcia
Preparing agaves and firing roasting pit
Agave spirits tasting
Jesús García practices experiential ethnobotany, and is an Education Specialist at the Arizona Sonora Desert Museum.
He will give a presentation about the agave plant, its traditional uses as food and fiber, roasting techniques, and more, as he prepares the agave for roasting and fires up the roasting pit.
Mission Garden will offer tastings of the finest in agave spirits: bacanora, mescal, tequila and sotol.

Friday admission:
| | | |
| --- | --- | --- |
| ages 21 and over: $25 | ages 6-20: $5 | under 6: Free |
Saturday April 29, 8.30 am to 10.00 am
Tour of ancient agave roasting sites on Tumamoc Hill, Suzanne & Paul Fish

Suzanne and Paul Fish,  emeritus archaeologists and agave specialists, will lead a tour to ancient Hohokam agave roasting sites on Tumamoc Hill. They will describe their research and findings and show how to identify remnants of the abundant ancient agave plantings and roasting pits in the Santa Cruz River valley.

Transportation from Mission Garden (946 W. Mission Lane. Tucson) to the tour site, and back provided by Friends of Tucson's Birthplace. Parking for tour participants: East Entrance of Mission Garden.

* The tour includes walking in the desert on uneven terrain. Although there is very little difficulty, it is not recommended for people with reduced mobility. Wear comfortable closed shoes, protective clothing and hats, and bring water

A portion of this fee will be donated to the U of A Desert Laboratory Tumamoc Hill. Transportation from Mission Garden to tour site provided. Leaving Mission Garden at 8.30 am.
Limit: 20 people
Saturday April 29, 4.30 pm to 7.30 pm



Presentations by Jesus Garcia, Suzanne and Paul Fish as well as Carolyn Niethammer
Opening the roasting pit
Tasting roasted agaves
How to cook agaves at home, agave recipes
Agave fiber workshop with tools and rope-making
Agave spirits tasting
Featuring presentations by Suzanne and Paul Fish, Jesús García and Carolyn Niethammer. Suzanne and Paul Fish are emeritus archaeologists and foremost agave scholars. Jesús García practices experiential ethnobotany, and is an Education Specialist at the Arizona Sonora Desert Museum Carolyn Niethammer is an eminent author who has written several cookbooks and a blog on wild edible plants.
The Fishes will provide historical context on Tucson's agave heritage. Their talk will touch on their research conducted in the agave fields on Tumamoc Hill, and the ancient Hohokam cultivation and processing of agave, including a demonstration of archaeological artifacts, such as tools, and products made with agave fibers.
Jesús García will oversee the removal of the agave from the roasting pit and tasting of the roasted agave. He will also show how to make rope with agave fibers.
Carolyn Niethammer will demonstrate how to cook agave at home and share recipes with roasted agave.
Simultaneously, Mission Garden will offer tastings of the finest agave spirits: bacanora, mescal, tequila and sotol.
Saturday evening admission:
| | | |
| --- | --- | --- |
| ages 21 and over: $25 | ages 6-20: $5 | under 6: Free |
SPECIAL 2-day package price, including Tumamoc Hill tour:
| | | |
| --- | --- | --- |
| 21 and over: $60 | ages 6-20: $10 | under 6: Free |
---
Sunday, May 7 at 11 am
The Hotel Congress presents an Agave Heritage Brunch benefiting Mission Garden.
Chef Janos Wilder and Chef Anthony Coluci take you on an exploration of agave through this four-course brunch.
at The Carriage House.
Tickets and info at http://hotelcongress.com/events/may/
The Agave Heritage Festival features seminars around Tucson spearheaded by industry giants like renowned nature activist and co-founder of Native Seeds/ SEARCH Gary Nabhan, famed author and Agave aficionado Ana Valenzuela-Zapata, Mexico City's Master Mezcalier Sergio Inurrigaro and Wendy Hodgson of Desert Botanical Gardens and author of Food Plants of the Sonoran Desert. The world-class culinary events featured during this festival shine a light on Tucson heritage food and the brilliance of the Agave plant with James Beard awarded Chef Janos Wilder and mezcal chocolatier Anayency Gomez. The Tucson community has embraced this celebratory festival and created events to help support the diversity of the week. Partners like The Arizona-Sonora Desert Museum, The University of Arizona, Tucson Botanical Garden, Tohono Chul and Mission Garden have added educational exhibits that share insight on how connected agave is to our Sonoran traditions and our modern exploration of the past. Answering to its community based mission, the Agave Heritage Festival will be contributing proceeds to both Native Seeds/SEARCH and Mission Garden as well as hosting the inaugural Agave Spirit Industry Trade show featuring agave spirits not yet distributed in the United States as well as four of Tucson's top agave spirit wholesale distribution companies.
---
Oaxaca Tour October 3-10, 2017
7-day tour of Oaxaca with Mission Garden
REGISTRATION DEADLINE: May 20, 2017! Contact Phil Hall at phil1948hall@me.com
October 3-10, 2017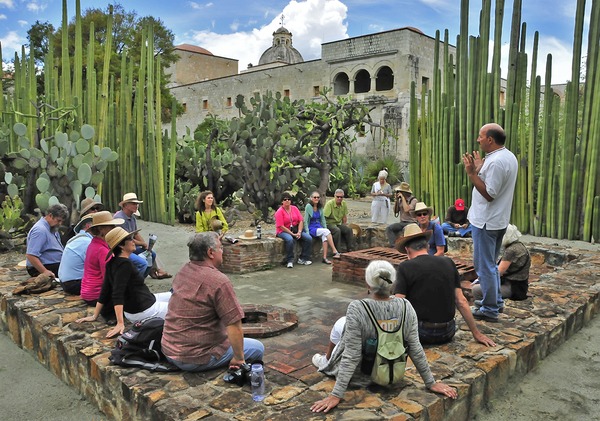 Travel to Hidden Oaxaca – a unique learning journey
With Friends of Tucson's Birthplace

Jardín Etnobotánico
This exquisite garden in the former Templo de Santo Domingo, features native
plants from throughout the state of Oaxaca, with staggering varieties of cacti
and ancient medicinal plants. A demonstration of Oaxaca's biodiversity,
the garden portrays 10,000 years of civilization through plants.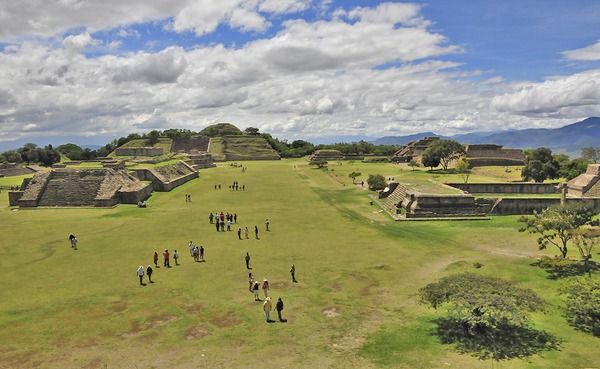 HIGHLIGHTS
TOURS: Monte Albán, Teotitlán del Valle, Cuajimoloyas, Mitla, Tlacolula, Museo de las Culturas de Oaxaca, El Tule.
VISITS: regional local markets, carving village, weaving village, art exhibitions, indigenous villages.
TRIP INCLUDES: transportation from Tucson, lodging, breakfasts, 5 lunches,
3 dinners, local transportation, cultural & agricultural expert guides & fees.
Gratuities not included. Alcohol not included.
COST: $3500/person; single supplement $300 extra; a portion will be tax deductible.
"This is the most amazing week of travel I've ever experienced,"
"I can't imagine that my memories of the trip to Oaxaca will ever fade."
"The food alone was worth the trip!"
Testimonials from previous trips
or register now:
Trip: $3500
Single supplement: $300
REGISTRATION DEADLINE: May 20, 2017!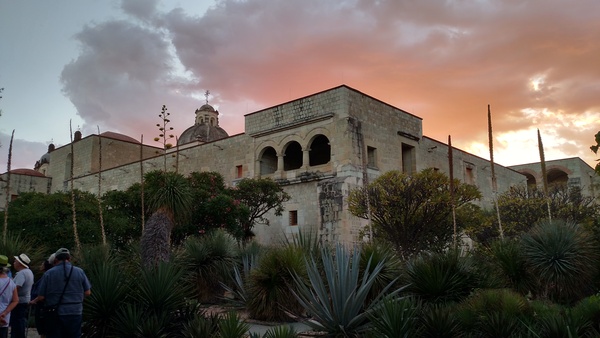 ---
Dear Fellow Garden Lover:
What a great year we've had this year. Here is a list of our accomplishments in a nutshell:
• Our brand new Garden map and brochure shows all our progress and we've mailed copies to many of you. You'll read that this year we have:
• Hosted educational programs for Tucson's multiplicity of student and public groups, conducting workshops on:
Heritage Fruit Tree Pruning and Propagation;
Cholla Bud Harvesting and Preparation;
Orange Marmalade Cooking and Canning;
Agave History and Hohokam Trinchera Construction;
Identification of Orchard Birds; and
Heritage Seed Selection and Saving.
We've hosted students and the public for Latino Conservation Week, Salpointe Impact Week, Archaeology Underneath the Garden, Edible Baja Arizona, the Society of Ethnobiology Conference – partnering with many organizations including Tucson Audubon, Tucson Meet Yourself, Tohono O'odham Community College for their Youth Agriculture Day, Envisioning Sustainable Tucson, the TENWEST Festival, TUSD's Fig Fest; and the National Phenology Network for site monitoring, Community Foodbank, Las Milpitas atl Cottonwood Farm, the Himdag Ki Tohono O'odham Cultural Center, Native Seeds/SEARCH, the Chinese Cultural Center, the Environmental Education Exchange, the Ironwood Tree Experience, Arizona State Museum, Pima County Public Seed Library, Goodwill Good Futures, and Iskashitaa Refugee Network.
• Constructed our new Education Center, new Demonstration Kitchen, new Event Ramada; and best of all new Flush Toilets and Restrooms. We've also re-constructed the historic Chihuahuan granary, expanded our irrigation system, installed electricity and sewer systems. And we've dedicated our first of five species-specific pollinator gardens.
• Celebrated traditional agriculture and foodways: In May – the San Ysidro Planting Festival; in August – Tucson's Birthday; in September – Pomegranate Preparation; in October – the Membrillo Fest, and we even had time to organize another of our now-famous Learning Journeys to Historic Oaxaca. Join us next year and every year to honor Tucson through these traditional celebrations, and to go on some of our Learning Journeys to Sonora and historic farms in Arizona.
• Last but not least, Mission Garden was a major inspiration for Tucson receiving the honor of being designated the very first UNESCO City of Gastronomy in the United States, a wonderful recognition of how we have celebrated the amazing longevity and the historical depth of our agricultural heritage at Mission Garden
We've worked so hard, we're exhausted just reading about it, but we did receive a number of awards for all our successful work. So here's our quick request to you. Please help us pay for all this expansion, beautification, increased efficiency. This year we received generous funding from the Rio Nuevo District for infrastructure construction, but it's not enough to complete some of the most important historic reconstructions, like the acequia and the final Timeline Gardens. We rely on your volunteer work and donations to continue our planting, pruning, seed collection, maintenance and operations, and we count on your donations to complete our ambitious Garden design.