News & Events
5th Annual Membrillo Fest. October 28 / 2.30 to 5.30 pm
---
Mission Garden tour of Magdalena and Altar River Valleys of Sonora, Mexico
"Cultivating the Desert" – November 17-19
Support the work of Friends of Tucson's Birthplace
and experience the deep history of our region
Expert Guides
Jesus Garcia, Arizona Sonora Desert Museum Education Specialist, biologist, cultural anthropologist, horticulturalist and musician.
Diana Hadley, former Curator of Ethnohistory and Director of the Arizona State Museum's Office of Ethnohistorical Researh, and current President of the Northern Jaguar Project
Itinerary includes:
-Scenic Byways through pristine uplands to quaint villages of Tubutama and Oquitoa, and town of Caborca
-Trincheras archeological site and new Interpretation Center
-Magdalena de Kino plaza, mausoleum and chapel
-San Ignacio church and orchards
       Highlights:
The region's most knowledgeable and engaging guides
Authentic home-cooked meals in family compounds
Lush centenarian family-owned fruit orchards
Impressive ancient petroglyphs and well-preserved terraced gardens
Live Mexican folk music
Tickets $495 (Single supplement $50)
Interpretation, entertainment lodging, transportation and meals included
Limited space available
Write to missiongarden.tucson@gmail.com or call (520) 241-1230

| | |
| --- | --- |
| Tickets: $495 | Single Supplement: $50 |
---
Oaxaca Tour October 3-10, 2017
7-day tour of Oaxaca with Mission Garden
REGISTRATION DEADLINE: May 20, 2017! Contact Phil Hall at phil1948hall@me.com
October 3-10, 2017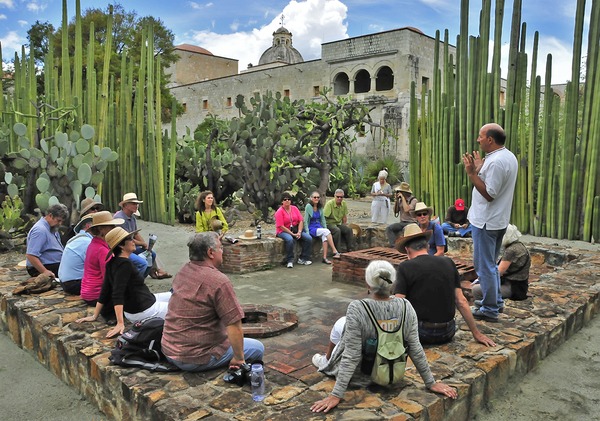 Travel to Hidden Oaxaca – a unique learning journey
With Friends of Tucson's Birthplace

Jardín Etnobotánico
This exquisite garden in the former Templo de Santo Domingo, features native
plants from throughout the state of Oaxaca, with staggering varieties of cacti
and ancient medicinal plants. A demonstration of Oaxaca's biodiversity,
the garden portrays 10,000 years of civilization through plants.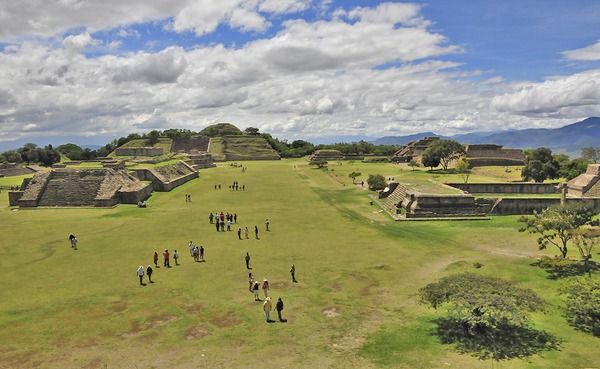 HIGHLIGHTS
TOURS: Monte Albán, Teotitlán del Valle, Cuajimoloyas, Mitla, Tlacolula, Museo de las Culturas de Oaxaca, El Tule.
VISITS: regional local markets, carving village, weaving village, art exhibitions, indigenous villages.
TRIP INCLUDES: transportation from Tucson, lodging, breakfasts, 5 lunches,
3 dinners, local transportation, cultural & agricultural expert guides & fees.
Gratuities not included. Alcohol not included.
COST: $3500/person; single supplement $300 extra; a portion will be tax deductible.
"This is the most amazing week of travel I've ever experienced,"
"I can't imagine that my memories of the trip to Oaxaca will ever fade."
"The food alone was worth the trip!"
Testimonials from previous trips
SOLD OUT!!!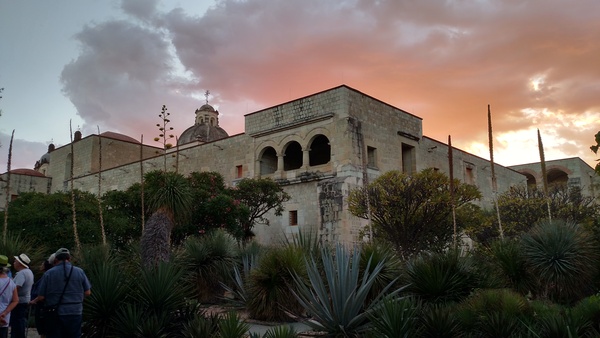 ---
Dear Fellow Garden Lover:
What a great year we've had this year. Here is a list of our accomplishments in a nutshell:
• Our brand new Garden map and brochure shows all our progress and we've mailed copies to many of you. You'll read that this year we have:
• Hosted educational programs for Tucson's multiplicity of student and public groups, conducting workshops on:
Heritage Fruit Tree Pruning and Propagation;
Cholla Bud Harvesting and Preparation;
Orange Marmalade Cooking and Canning;
Agave History and Hohokam Trinchera Construction;
Identification of Orchard Birds; and
Heritage Seed Selection and Saving.
We've hosted students and the public for Latino Conservation Week, Salpointe Impact Week, Archaeology Underneath the Garden, Edible Baja Arizona, the Society of Ethnobiology Conference – partnering with many organizations including Tucson Audubon, Tucson Meet Yourself, Tohono O'odham Community College for their Youth Agriculture Day, Envisioning Sustainable Tucson, the TENWEST Festival, TUSD's Fig Fest; and the National Phenology Network for site monitoring, Community Foodbank, Las Milpitas atl Cottonwood Farm, the Himdag Ki Tohono O'odham Cultural Center, Native Seeds/SEARCH, the Chinese Cultural Center, the Environmental Education Exchange, the Ironwood Tree Experience, Arizona State Museum, Pima County Public Seed Library, Goodwill Good Futures, and Iskashitaa Refugee Network.
• Constructed our new Education Center, new Demonstration Kitchen, new Event Ramada; and best of all new Flush Toilets and Restrooms. We've also re-constructed the historic Chihuahuan granary, expanded our irrigation system, installed electricity and sewer systems. And we've dedicated our first of five species-specific pollinator gardens.
• Celebrated traditional agriculture and foodways: In May – the San Ysidro Planting Festival; in August – Tucson's Birthday; in September – Pomegranate Preparation; in October – the Membrillo Fest, and we even had time to organize another of our now-famous Learning Journeys to Historic Oaxaca. Join us next year and every year to honor Tucson through these traditional celebrations, and to go on some of our Learning Journeys to Sonora and historic farms in Arizona.
• Last but not least, Mission Garden was a major inspiration for Tucson receiving the honor of being designated the very first UNESCO City of Gastronomy in the United States, a wonderful recognition of how we have celebrated the amazing longevity and the historical depth of our agricultural heritage at Mission Garden
We've worked so hard, we're exhausted just reading about it, but we did receive a number of awards for all our successful work. So here's our quick request to you. Please help us pay for all this expansion, beautification, increased efficiency. This year we received generous funding from the Rio Nuevo District for infrastructure construction, but it's not enough to complete some of the most important historic reconstructions, like the acequia and the final Timeline Gardens. We rely on your volunteer work and donations to continue our planting, pruning, seed collection, maintenance and operations, and we count on your donations to complete our ambitious Garden design.